Just in time for the New Year, Mets 101's Seven in Seven series returns as our gift to you. Each week, the Mets 101 staff will begin a countdown of topics related to the New York Mets (i.e. best third baseman, worst defeat, etc.). We will begin our countdowns with the number seven and work all the way to number one. This week's Seven in Seven list takes a look at some of the strangest characters in Mets franchise history, as we take a look at the most offbeat personality in team history, Turk Wendell.
1. Turk Wendell
On August 8, 1997, the New York Mets dealt disappointing outfielder Lance Johnson to the Chicago Cubs for Mel Rojas, Brian McRae and a 30-year old relief pitcher who went by the name "Turk" Wendell. Born Steven John Wendell in Pittsfield, MA, Wendell carved a path to the major leagues through the Braves and Cubs farm systems before sticking with the Cubbies in 1993. It certainly wasn't his stat line that made the transaction notable; Wendell posted an 11-14 record with a 4.41 ERA and 22 saves over his first five seasons; but his quirky personality, that included a long list of superstitions that would prove to make him one of the most memorable Mets of all-time.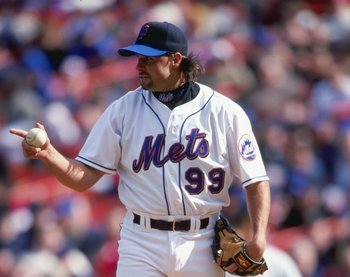 Named the most superstitious athlete by Men's Fitness, Turk brought his trademark routines to Shea Stadium, such as and constantly chewing black licorice, jumping over the baselines while entering the field and brushing his teeth between innings. He donned a unique animal-tooth necklace, comprised of the remains of creature he had hunted, each time to the mound and would spike the rosin bag while stepping off the rubber, much to the delight of the Flushing faithful. While negotiating a new contract with the Mets, Turk requested the three-year deal total $9,999,999.99 to match his uniform number 99.
Turk also was never a dull interview and didn't hold back his strong opinions on a variety of issues. He became known as a strong opponent of steroid use, slamming players like Sammy Sosa and Barry Bonds, saying it was "obvious" they used and supported Jose Canseco's controversial tell-all book Juiced. He challenged players like Vladimir Guerrero through the media, responding to criticism from the slugger after Wendell hit him with a pitch with "If he doesn't like it, he can freakin' go back to the Dominican and find another line of work."
After being dealt to Philadelphia in the Summer of 2001, Wendell began to develop injury troubles and retired just three years later, after an injury plagued year in Colorado in 2004. He now owns Wykota Ranch in Colorado, a 200-acre hunting and fishing ranch and remains an avid sportsman, while also continuing to be active in charity work, much like he was during his career. Additionally, he's even become a spokesman for the National Honeyboard in conjunction with Minor League Baseball, as seen in the clip below. For Met fans, Turk will always be remembered as the most offbeat personality in New York Met history.
Tags:
Baseball
,
Brian McRae
,
Mel Rojas
,
MLB
,
New York
,
New York Mets
,
Seven in Seven
,
Turk Wendell